The JH Volleyball Jamboree that was scheduled for tomorrow is canceled.

Superior 0, Thompson Falls 14

JH Volleyball vs. Plains that was scheduled for Thursday, Sept. 16 has been canceled.

Volleyball vs. Drummond that is scheduled for tomorrow has been postponed. Volleyball @ Granite scheduled for 9/16 has been rescheduled for 10/12. Volleyball Tournament on Saturday at Arlee has been canceled. Volleyball vs. St. Regis scheduled for 9/21 has been rescheduled for 10/4.

Superior School Board Meeting Monday, September 13th 6:30 pm @ Superior Elementary Library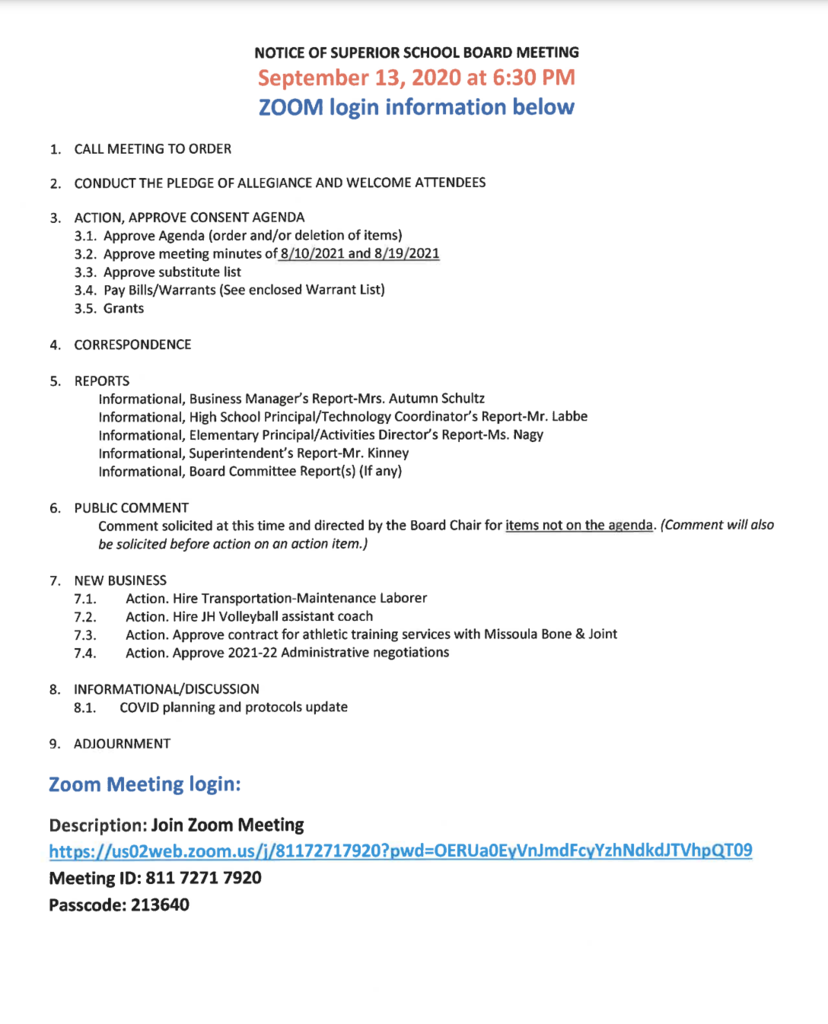 HS Volleyball game in Charlo today has been cancelled.

Don't forget Friday Night Lights! Bobcat's home opener vs Troy @ 7:00 pm! Booster Club Burger Tailgate starts at 5:30 pm Burgers, Chips and a Drink for $7.00.

The JV football game tomorrow (9/7) has been canceled.

Lady Cats win 4th set 25-13, beat Noxon 3-1.

Lady Cats win 2nd set 25-23, up 2-0 overall.

32-8 Bobcats up with 11:16 to go in the game

24-8 Bobcats 3:29 to go in the 3rd

18-8 Bobcats up with 7:13 to go in the third quarter

Bobcats up 12-8 at the half.

Bobcats down 8-6 with 3:47 to go in the first half.

Bobcats up 6-0 with 2:21 to go in the first quarter.


Reminder that we do not have school on Monday. Enjoy the long weekend!

Sports Update for this weekend: Thursday, Sept. 2nd, Varsity Volleyball @ Hot Springs 6:00pm (No JV) Satruday, Sept. 4th, Varsity Football @ Victor 1:00pm Saturday, Sept. 4th, Varsity Volleyball vs. Noxon 4:00pm (No JV)

Our phones are back online if you need to call the school please use 406 822 3600. Thank you and sorry for the inconvenience. JH/HS Office extension 110 Elementary Office extension 200